| | |
| --- | --- |
| "Z" Pattern Bucket Elevators | Inclined Belt Conveyors |
| Available in capacities from 5m³/hr to 60m³/hr. | Available in capacities from 5m³/hr to 80m³/hr. |
| Fabrication from operational carbon steel, stainless steel with carbon steel, stainless steel or plastic buckets. | Incorporates either painted carbon steel or stainless steel -components with polyurethane cleated belt. |
| Offers versatile installation possibilities. | Cleat design and style to suit product characteristics. |
| Most suitable for a wide range of applications and non-product degradation material transfer. | Fabricated to meet the conveying application specifications and material characteristics. |
---
"Z" Pattern Bucket Elevator
Universal Model
Application
Suited for vertical transfer applications where gentle handling is required for products such as: seeds, rice grain, specialty grain, and for the handling of other products where 'degradation' is to be minimised where possible.
Technical Parameters
Discharge outlet height to be designed to suit individual application.
Direct coupled drive assembly
Fitted with enclosed tension module containing threaded spindles and guide way bearings. This guide system is built-in for changing the bucket overlap.
Fitted with an enclosed corner module complete with side plates, chain guides, and chain sprocket.
Intermediate modules are fitted with side plates where the chain runs in a 'bolted-on folded guide' way.
Various bucket material to suit different application requirements. The buckets are removable for cleaning, and designed for easy assembly and disassembly into the carrier chain arrangement.
You can choose between a stainless steel or carbon steel panel and structure frame.
The elevator is supported by legs at each junction of the lower horizontal module.
The elevating sections are fully enclosed with easily removed sections. An access door panel is provided to enable the wiping out or complete removal/re-installation of each bucket.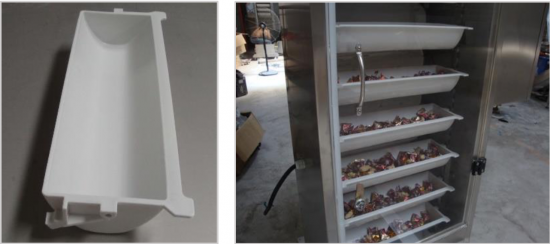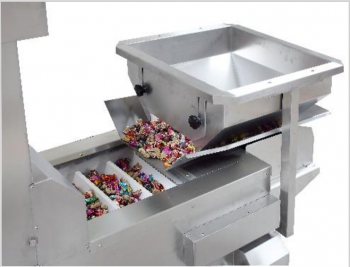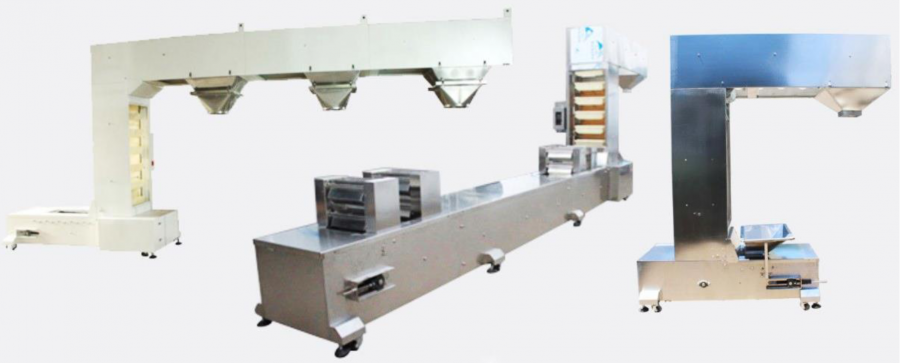 ---
"Z" Pattern Bucket Elevator
Heavy Duty Model
Application
Purpose built for heavy duty conveying applications within bulk cereals, minerals, mining, chemicals, fertilizer and related industries where compact installation requirements and harsh conditions may be a feature.
Technical Parameters
Discharge heights for outlets may be provided to meet conveying application requirements.

Capacity: Up to 100m³/hr.

Fabrication from carbon steel or stainless steel option with carbon steel, stainless steel or plastic buckets to suit product being handled

Bucket width from 600mm up to 1200mm.

Supplied with in-feed metering feeder for controlled material delivery to each bucket.

Drive is via a cyclodrive gear unit and motor with chain and sprocket transmission complete with safety guard.

Fitted with a chain tensioning device which also has an alarm to indicate when adjustments are needed.

Available for multi-paint loading and multi-paint discharge.
Features
Fitted with totally enclosed dust proof enclosure panels.

Fitted with safety interlocks.

Control panel includes electronic safety features for reverse polarity, single phase and motor overload, together with an inching feature which enables the buckets to be run for cleaning - when required.

Incorporates positive indexed drive metering feed valve unit for complete bucket filling.

Adopts PLC control and frequency operating speed regulation

Installation takes up to 100 metres horizontally, and 60 metres vertically - depending on the application requirements.




| | |
| --- | --- |
| Capacity of up to 100m³/hr | Bucket width from 600mm to 1200mm |
Advantages
There are significant advantages to be found in incorporating the "Z" Pattern Bucket Elevator:
Stable and careful conveying of friable products.

100% self-cleaning.

Easily removed buckets where external wash down or cleaning is necessary.

Compact cross-sectional area suits installation within tight spaces.

Will not harbour material deposits within cleats or side wall rufflets as is found in inclined belt-type conveyors.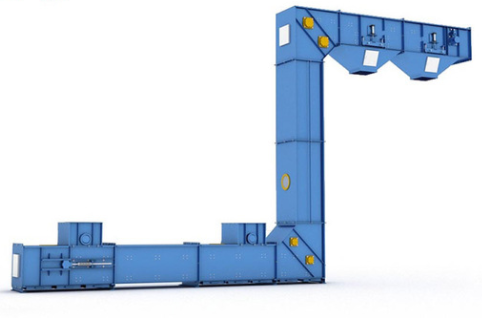 We can install 'z' pattern bucket elevators of any size up to 100 metres horizontally, and 60 meters vertically.
Our 'z'-pattern bucket elevators are available in both painted carbon steel and stainless steel. (Contact us for more details.)
Below are some photos to show you what our 'z' pattern elevators look like in a factory.
Our stainless steel and plastic buckets range from 2L to 30L in capacity.
---
Inclined Belt Conveyors
Application
These belt conveyors are designed for conveying requirements where a steep inclination is necessary. The belts are fitted with vulcanized side walls, corrugated pleats or ribs at a high for product containment coupled with either straight, inclined, or special lipped cleats to provide a containment pocket. Our inclined belt conveyors are available in a variety of carrying capacities and belt types to suit application specifications.
Technical Parameters
Available with inclined belt conveyors that are suited to all types of bulk materials including food, feed, grain and seed, minerals, coal, building material, wood chip, sawdust, etc.

The side wall is hot vulcanized onto the base belt to provide a molded seal capable of withstanding high stress loads and repeated flexing. The cleats are also hot vulcanized onto the belt material.

Available belts materials include: PP / PVC / PU.

Belt widths are available from 500mm through to 2500mm with a selection of thicknesses between 3mm, 4mm, 5mm, 6mm, 7mm, 8mm, and 10mm.

Our inclined belt conveyors are suited for controlled feed through the incorporation of alternative feeding units, i.e. vibro feeder and belt feeder.

Frame and component assemblies are fabricated from painted carbon steel or 304 stainless steel.

Provided with positive belt drive arrangement via a shaft mounted gear unit that is directly coupled drive pulley.