Bulk storage silos in diameters from 3.5 to 22 meters and capacities of 5.0 - 5000.0 metric tones are provided suited to a wide range of bulk material handling applications.
The range includes bolt together and continuously formed construction incorporating materials options of high carbon steel, galvanized steel, aluminum, plastic coated steels in material thickness from 1.5mm - 4mm.
The continuous forming principle is characterized by:
Automated manufacturing process for assured quality.
Formed joint ensures a very effective seal and extreme rigidity to the wall section.
Efficient erection process providing optimum economics.
Complete installations incorporating bulk unloading systems, mechanical handling, screeners, magnetic separators and dust filter collectors are supplied to provide an economic arrangement.
Optional features, which are available to meet specific applications, include:
Drying Systems
The range of continuous flow tower dryers are suited to varying capacity needs and product drying characteristics for the drying treatment of all kinds of grain and seed to ensure safe storage of these products over long periods.
Level Indicating Systems
High quality capacitor or paddle type level sensors are installed to enable process automation, alarms and operating convenience and efficiency.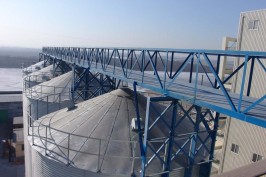 Temperature Measuring Systems
The TMS automatically measures the temperature at varying levels within the silo. The recorded temperatures are accumulated, displayed and printed to enable complete product control. The system is equipped with audible and visual alarm functions, which help to minimize losses due to oxidation and unduly high temperature within the stored product.
Fumigation Systems
Efficient in silo fumigation systems may be fitted to control insects and prevent likely mould growth from insect damaged grain/seed.
Automated Control Systems
The automated control systems, through electro-mechanical operational units fitted to the diverter valves, slide gate valves in combination with motion sensors, level sensors and limit switches enables advanced automated operation of the complete installation for reliable and convenient system management.
Bolt together silos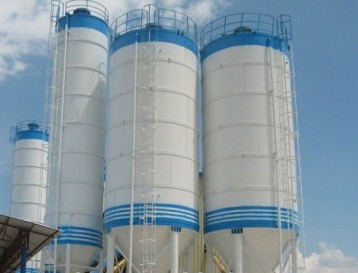 Grain Tech can supply high quality bolt together panel silos. These silos are easy to assemble with a strong, safe structure enabling them to be suitable for heavy duty applications including the cement industry. The panel design of the silos allows them to be efficiently packed into containers with minimal unutilized space and also allows silos of any size to be packed into a container. Another advantage of this silo design is the ease of relocation where necessary. The silos can be dismantled by unbolting and re-erected on the new site. The silos are supplied complete with all necessary panels, gasket material, fasteners, gasket applications tools and detailed assembly instructions.