Bucket Elevators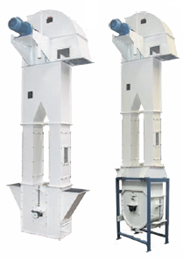 Fire-proof and anti-abrasive rubber head pulley can prevent belt from sideslip efficiently. Matched with rammed steel buckets or plastic buckets

Provided with anti-explosion vent which can effectively avoid dust explosion, save and reliable

Backstop fitted can efficiently prevent material from blocking due to machine stoppage

Special cramp folding technique is applied in trunking manufacturing, hence high strength and good sealing performance are ensured

Intensified or polyester bucket belt adopted renders low elongation percentage, long endurance and high reliability

Elevator boot can be fed on either the up leg side or down leg side according to different requirement

Belt take up used is gravity type or thread rod type

Sideslip alarm and speed monitoring device are optional
| | | | | | | | |
| --- | --- | --- | --- | --- | --- | --- | --- |
| Model | TDTG 36/23 | TDTG 36/28 | TDTG 40/23 | TDTG 40/28 | TDTG 50/23 | TDTG 50/28 | TDTG 50/32 |
| Capacity | 20m3/hr | 35 m3/hr | 40 m3/hr | 55 m3/hr | 60 m3/hr | 80 m3/hr | 110 m3/hr |
| Model | TDTG 60/28 | TDTG 60/33 | TDTG 80/33 | TDTG 80/46 | TDTG100/33x2 | TDTG100/46x2 | |
| Capacity | 120 m3/hr | 200 m3/hr | 300 m3/hr | 420 m3/hr | 670 m3/hr | 820 m3/hr | |
---
Screw Conveyor

Used for conveying materials in horizontal or inclined situations. large loading capacity, safe and reliable operation. Flexible inlet/outlet arrangement which may be designed to suit application. Available in U- shaped trough or round design.
| | | | | | |
| --- | --- | --- | --- | --- | --- |
| Model | TLSUw 16 | TLSUw 20 | TLSUw 25 | TLSUw 32 | TLSUw 40 |
| Capacity | 5-7 m3/hr | 12-14 m3/hr | 25-30 m3/hr | 55-60 m3/hr | 100-120 m3/hr |
---
Screw Feeder
Inside the U-shaped trough or round housing, flights with varied or constant diameter
and varied pitch are fitted. A bridge breaker is available for small models making material feeding even, especially suitable to be used at the inlets of batching bins of a proportioning system.
| | | | | | |
| --- | --- | --- | --- | --- | --- |
| Model | TLSUw 16 | TLSUw 20 | TLSUw 25 | TLSUw 32 | TLSUw 40 |
| Capacity | 5-7 m3/hr | 12-14 m3/hr | 25-30 m3/hr | 55-60 m3/hr | 100-120 m3/hr |
---
En-masse Drag Conveyor
Stable running, low noise and long service life

Thread rod type take-up (tensioner) can be fitted at the tail to meet various conveying requirements

Flexible for multi-point feeding and discharging;

Equipped with an alarm device for material blockage

Devices for maintenance speed and chain breakage protection are optional

Widely used in port, doc, grain depot and the malt, flour, brewery, feed and chemical industries for horizontal bulk material conveying
| | | | | | | | |
| --- | --- | --- | --- | --- | --- | --- | --- |
| Model | TGSS 16 | TGSS 20 | TGSS 25 | TGSS 32 | TGSS 35 | TGSS 42 | TGSS 50 |
| Capacity | 35 m3/hr | 55 m3/hr | 90 m3/hr | 130 m3/hr | 180 m3/hr | 300 m3/hr | 400 m3/hr |
---
Super flo- U trough drag conveyors

Both the TGSU 'U' trough series (self cleaning), and the TGSS square trough series are made of heavy duty, painted, carbon steel or stainless steel. Drag conveyors are ideal for large capacity and long distance product transfer. All conveyors are supplied with an adjustable gear drive unit, and inlet / outlet transitions to suit the conveying application, and are fitted with industry standard safety guarding.
---
Vibratory bin activator
Modular design for a variety of series and models

Reliable equipment for material discharging to prevent bridging

Reinforced vibrating cone enables smooth material flow

Sulfurization treatment applied to rubber cushion

Extended discharge funnel to reduce the weight applied to the sealing ring

Quality rubber seals

Unique seal clamp for reliable operation

Laser cut sheet metal components for quality and accuracy

Carbon dioxide gas shielded welding

CNC machining centres used where applicable

Powder coated finish
Model

Motor speed

Swing

Power (kW)

Weight

Size (LxWxH)mm

TDXZ 100x30

1430 rpm

0.8~3.2mm

0.37

220 kg

1480x1260x530

TDXZ 130x30

0.37

300 kg

1780x1560x640

TDXZ 130x50

0.37

280 kg

1780x1560x560

TDXZ 160x50

0.55

550 kg

2080x1860x704

TDXZ 200x50

0.75x2

820 kg

2480x2260x895
---
Belt conveyors
Belt conveyors are often used in a wide range of industries including grain, food, mining, plastic, chemical and many others. Belt conveyors can be used to transport powder or granular materials horizontally or on an inclined angle. Grain tech is able to supply a range of different types and capacity capabilities depending on the application. Below are images of some models we can supply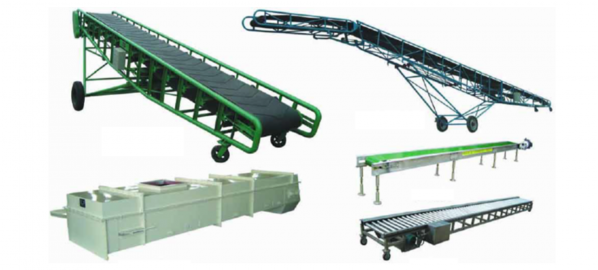 ---
Slide gate valves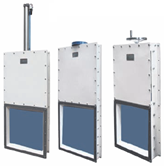 Widely used for loading and unloading control in grain, flour, feed, edible oil, food, metallurgy, cement and chemical industries. Heavy duty construction providing simple and reliable operation. Easy installation and low maintenance. Can be supplied pneumatically, electrically or manually actuated.
---
Diverter valves

Simple and compact structure that is easy to install and reliable. Pneumatically actuated utilizing high quality low maintenance components. Can be supplied in square or round inlet/outlets as well as in 30° and 45° configurations. Two way and three way valves are available.
---
Rotary distributor valves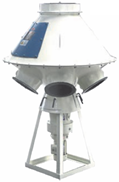 Suited to handling both granular and powdered product within high capacity bulk material handling applications. The diverter is driven from an inline gear drive unit, complete with electric braking device.
The TFPX Series features a secondary sweep arm, which operates to prevent any accumulation of material within the actuating area, and a flexible seal is fitted to the chutes to ensure a dust-tight fit up against the outlet facings.
---
Magnetic separators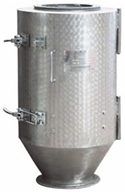 The TCXT series of rare earth tube magnets are used in the removal of iron particles prior to processing equipment. Featuring a ≥3000GS magnetic field intensity resulting a ≥99% efficiency of removal of ferrous metals.
---
Flex flo core-less augers
The flex flo System is simple, high quality, highly energy-efficient, fully-enclosed auger system which is extremely long wearing, and trouble-free. It can move feed up, down, on-the-level, or around corners using pre-formed elbows. The high tensile strength spring-like steel auger rotates in a specially-compounded ultraviolet- & wear-resistant PVC tube.
---
"Z" pattern elevators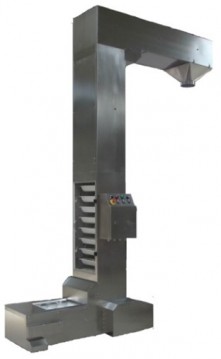 These elevators are designed and manufactured for continuous and quiet operation to gently transport a variety of free flowing materials in dry, semidry and moist conditions. They are particularly suited to handling grain, seeds, pulses and oil seeds where careful transfer for damage avoidance is vital.
This bucket elevator is constructed in solid plate sections, which allows easy access for cleaning and also several configurations for initial installation and future re-configurations
The buckets are one piece, food grade, injection moulded polypropylene. The buckets remain horizontal, maximizing product capacity with any configuration and at all available speeds.
The roller coaster in feed configuration features overlapping buckets, which facilitated easy non-spill feed. The fully rotating buckets allow discharge at any point in a horizontal run, or over the end of the top horizontal section.
The chain is heavy duty available in a variety of material combinations. Spring tension chain take-up keeps the tension at a minimum to reduce wear. No intermediate sprockets are used: the chain is guided by rails
---
Intake receiving conveyor (from pit)
Grain Tech can manufacture and supply suitable conveyors for drive over pit truck discharge. The system comes complete with:
Shallow profile hopper fabricated from carbon steel

Top drive over grid suitable for discharged ingredients to flow through complete with heavy duty support members capable of supporting loaded truck and trailer units.

En-masse drag link design pick up conveyor

Horizontal in feed with inclination for discharge into the following bucket elevator

Fabricated from heavy duty carbon steel folded and welded casing suited for bolt together assembly. High tension conveying chain fitted with UHMW flighting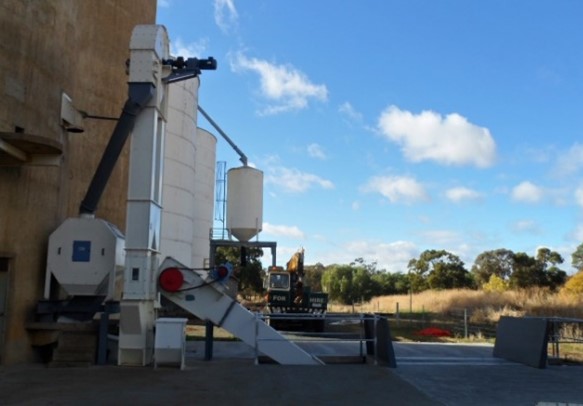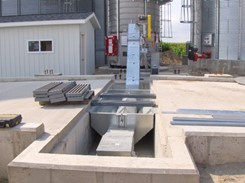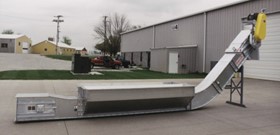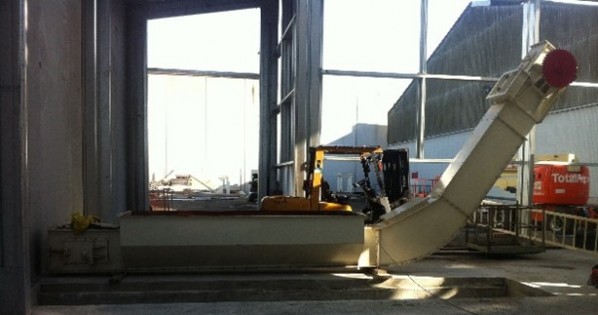 ---
Pneumatic conveying units
The vacuum conveyor is designed for industrial applications incorporating heavy duty components and is the ideal transfer equipment, used for transporting powder and granular materials for feeding the materials directly into mixers, sifters and other processing equipment. It reduces the likely dust emissions and is GMP certified. It is widely used in the pharmaceutical, foodstuff, feedstuff, chemical and plastics industries and for general processing material handling applications.
Working Principle:
The vacuum conveyor consists of a vacuum unit (no oil, no water), feeding tube, PE filter, vacuum hopper, automatic control device, pneumatic discharging device and a compressed air pulsing unit.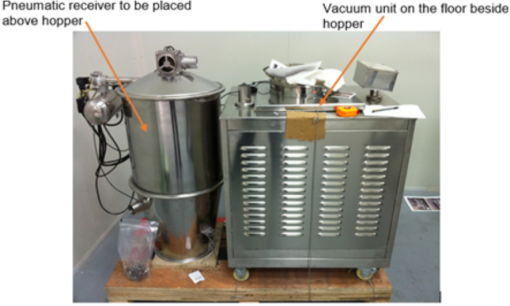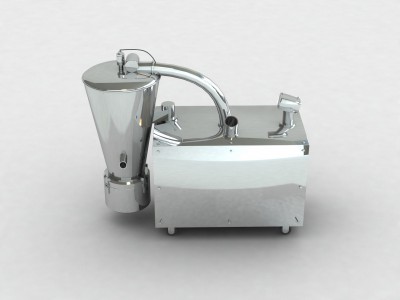 The ZKS conveying units have the characteristics of low power
consumption high capacity, low noise and reliable operation. It is
the ideal type of equipment for transferring powder and granular materials to mixers and processing equipment including sifters, packers, reactors etc.
| | | |
| --- | --- | --- |
| Model | Power (kW) | Capacity (kg/hr) |
| ZKS-1 | 1.5 | 400 |
| ZKS-2 | 2.2 | 600 |
| ZKS-3 | 3 | 1200 |
| ZKS-4 | 5.5 | 2000 |
| ZKS-5 | 4 | 3000 |
| ZKS-6 | 5.5 | 4000 |
| ZKS-7 | 7.5 | 6000 |
---
Aero mechanical conveyor (disc and tube)
Tube chain conveyor is designed to continuously convey fine powder granules and bulk materials. It can be installed as horizontal and horizontal and vertical and standalone vertical arrangement
For horizontal/ flat and horizontal/ upright, the chains and disks generate horizontal thrust to push the materials. When the internal friction of material is greater than the external friction of material on the tube wall, the material will move with the disks and form a stable flow.
For vertical/ upright, the chains and disks generate up vertical thrust. The under-feeding pattern prevents the product falling and generates lateral pressure that will reinforce the internal friction. When the internal friction is greater than the external friction and the product's dead weight, the product will move upwards with the disks and form a continuous flow.
Delivery capacity: 0.4-300m3/h according to model & size
Max. Delivery Distance: 80m (horizontal); 60m (vertical)
Power: 0.2-30KW according to model & size

Tube Chain Conveyor System's Feature:
Flexible: 3D with the tube chain conveyor

Sealed Pattern: dust-tight

Low Energy Consumption: low costs

No dead areas

No metal on metal friction

Low maintenance cost

Long life time operation

Explosion and pressure shock resistant design

Possible to re-start in filled state

Minimal grain or material degradation
Possible configurations: