Click here to view and download our catalogue
Our Processes and Services
For Recycling Waste Materials
Introduction
COMPACTING WASTE MATERIALS FOR REUSE
With the increasing demands for reducing and recycling waste materials within almost every branch of industry there have been many process developments for recovering valuable material from this waste. Usually these materials are required to pass through at least one further processing stage before they become suitable for profitable use. In many cases it is necessary to compress the material in order to make transportation, handling and further utilization economic or even possible. An effective form of compacting these materials is through agglomeration by compression by pelleting, a process, where the adhesion of the particles is completed by forcing the material through a rotating die to continuously extrude firm stable pellets. This process is a universally accepted and economic method for compacting dry lumpy, long fibred, powdery and pasty materials which have been pre-ground. The process of pelleting takes place through the coarsely milled materials being compressed continuously from fluted rollers against the perforated holes of the rotating die. The die width and thickness, as well as the number, shape and diameter of the holes may be varied according to the type of material to be processed. Following the pelleting process, the pellets require cooling so that they are suitable for packing off and storage. The range of different waste materials that may be pelleted to enhance their value for further processing or combustion is varied and includes: Wood Waste, Sawdust, Wood and Sanding Dust, Agricultural Biomass, Straw, Waste Paper, Municipal and Industrial Waste, Sludges, Plastic Waste, Bagasse, Miscanthus, Other Biomasses
---
WOOD PELLETING & FIBRE MATERIAL PELLETING APPLICATIONS
Grain Tech has extensive experience in the manufacture of wood and fiber product pelleting processes with our first installation being completed in 1990. A complete range of processing and handling capacities are catered for to meet each application inclusive of the following operations:
TYPICAL WOOD & FIBRE PELLETING PLANT - PROCESS FLOW DIAGRAMS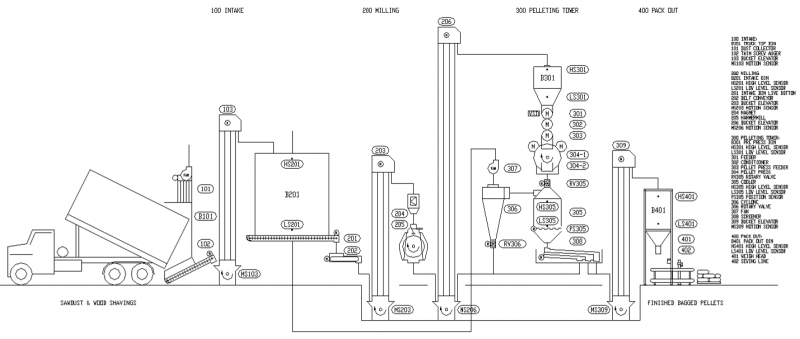 ---
TYPICAL WOOD & FIBRE PELLETING PLANT – 3D PLANT DESIGN
Grain Tech Ltd has the ability to approach application requirements quickly and prepare conceptual 3D plant designs c/w Specification & Tender documents for client review and consideration.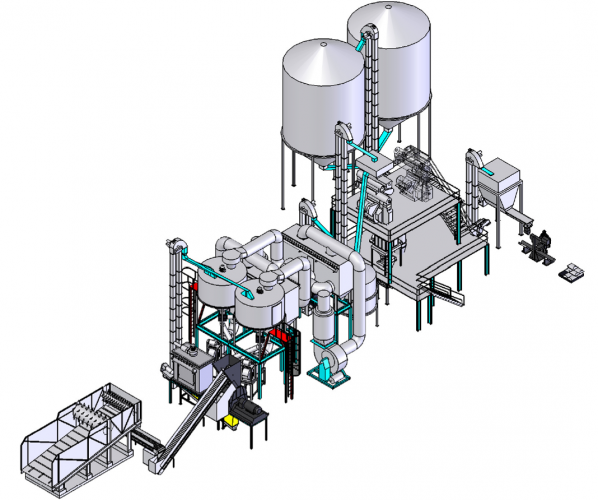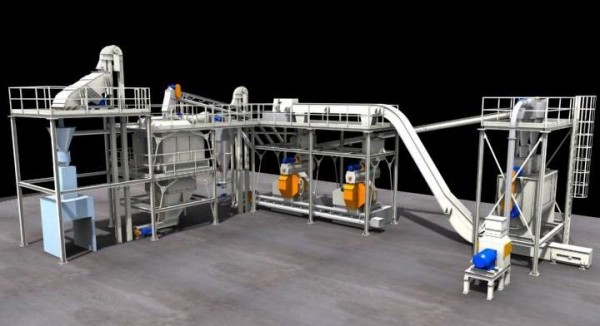 ---
BULK HANDLING, STORAGE AND TRANSFER
Stockpile storage may be provided utilizing conveying and belt thrower or high capacity pneumatic transfer units receiving from bulk transporters in order to optimize the area required for holding these raw materials. Stockpiles may be arranged at a height of up to 15 meters. Optional inclined transfer conveyor systems or bunker discharge units may be incorporated to handle chip or shredded materials for initial pre-grinding prior to drying.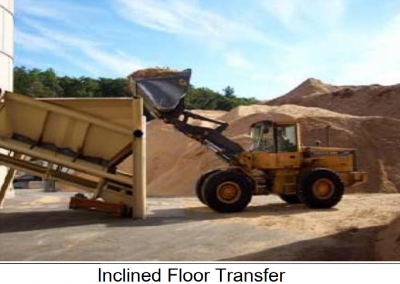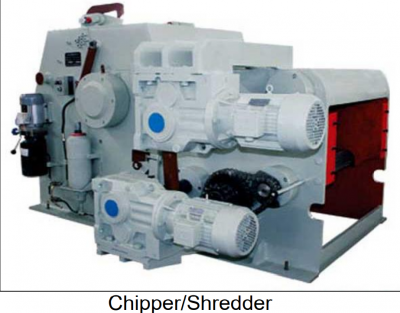 ---
INTAKE RECEIVING SYSTEMS, PRE-CLEANING, MILLING & METERING SUPPLY SYSTEMS
Pre-ground chip material, saw dust and materials requiring drying from their initial intake moisture content are dried to achieve a finished moisture content of from 8~10% ready for secondary hammer milling to a final particle size in the range of 3~4mm ready for pre-conditioning and pelleting. Transfer for these operations may be according to conveying systems or through using bucket loading units.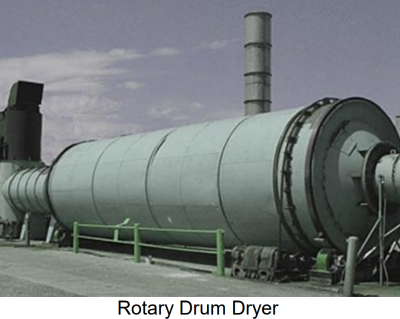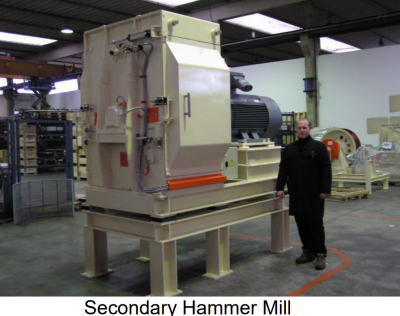 DRYING INSTALLATIONS, INCORPORATING DRUM, BAND OR MULTI-DECK TURBO DRYERS
Depending on type and condition of raw materials to be pelleted, the incorporation of either band, single or triple pass drum or a multi-deck turbo dryer will be required in order to achieve a finished dried material moisture content of from 8~10%. Each of these alternative type dryers may be supplied with the hot air from direct or indirectly fired oil, diesel or gas burners or alternatively be supplied with heat from a waste wood or chip burner unit which provides an attractive option where waste wood or chip material is readily available locally. The respective dryers are fitted complete with automatic operating controls, fine material recovery systems and exhaust air fan silencers and are available in a range of capacities to suit various throughputs.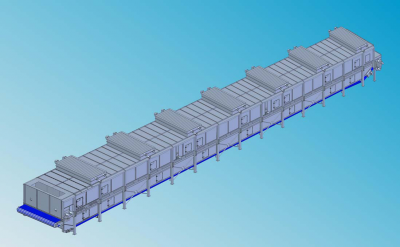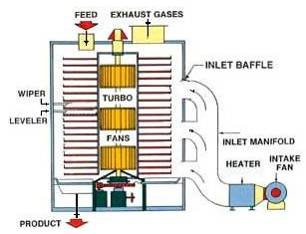 ---
HAMMER MILLING AND PARTICLE SIZE REDUCTION SYSTEMS
High capacity size reduction units are incorporated according to throughput requirements in order to reduce the dried chip and saw dust material to an even finished particle size of between 2.5~5.0mm suitable for pelleting. These hammer mill units have easy access and operational safety features and maybe installed as a sump discharge assembly with integrated receiving hopper, filter collector and discharge transfer conveyor or optionally be arranged for pneumatic transfer discharge to the following pre-pelleting supply bin(s)
---
PRE-PELLETING TREATMENT AND PELLETING INSTALLATIONS
The dried and milled wood waste / sawdust material is received into a pre-pellet press hopper for meter feeding to the pellet press pre-conditioner where a small percentage of water or optionally steam is added to the metered material as it transfers within the pre-conditioner supplying the pellet press. For additional heat transfer into the material, the pre-conditioner maybe jacketed for heating of the chamber with steam or hot oil. This additional heat assists in developing the lignin within the wood which acts as a binder for high durability within the finished pellet product. As extreme pressures are encountered within the pelleting chamber with the pre-conditioned milled material being forced by the rolls through the die holes, the operating components within the pelleting chamber are designed and machined for optimum performance under arduous conditions. All bearings within the pelleting press are lubricated via an automatic greasing unit to ensure that regular and consistent lubrication is maintained.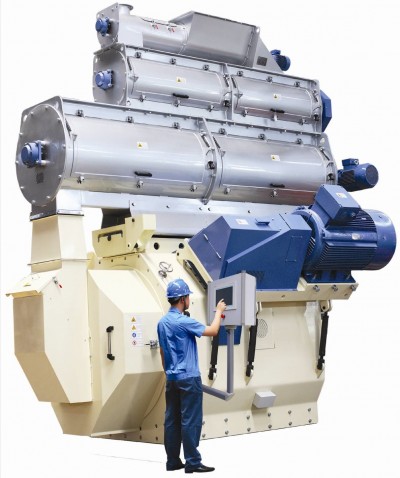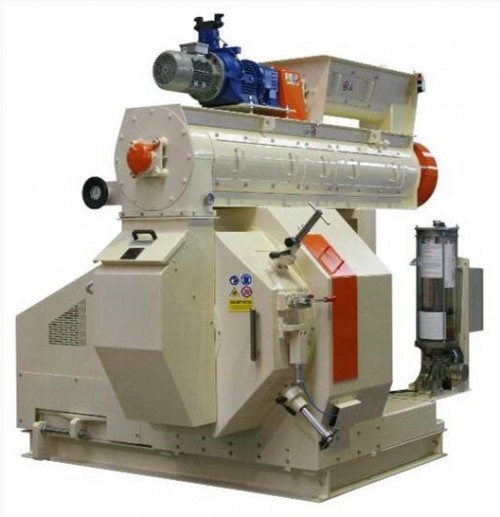 ---
PELLET COOLING AND SCREENING
As the pelleted product exits the pelleting die at a high temperature, it is cooled to approximately 4~5 degrees above ambient within a counter-flow type cooler supplied complete with cyclone receiver, exhaust fan and silencer. Cooled Pellets are finally screened prior to transfer for packing off or bulk out loading.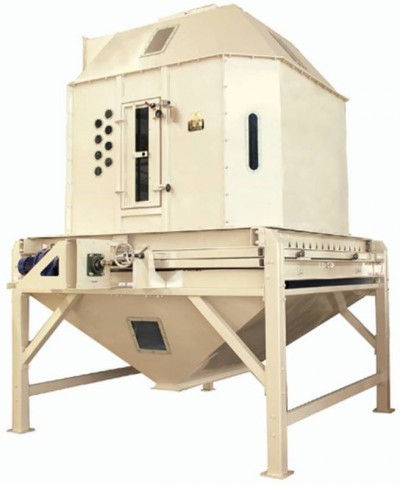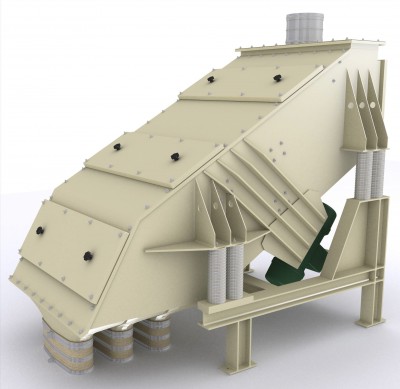 ---
Bag Packing
Finished pelleted product is aspirated to remove any residual fined before being packed into 10kg and 20kg polyethylene heat sealed bags. The finished bagged products are then shrink wrapped onto pallets for storage and or distribution.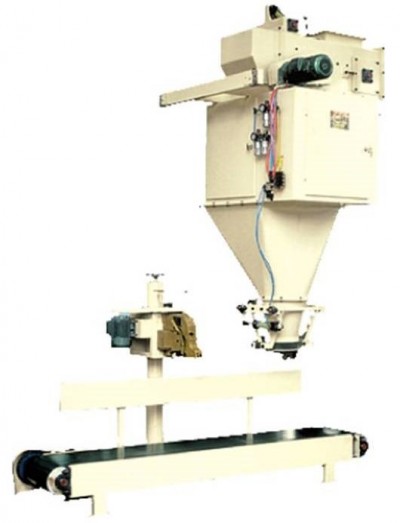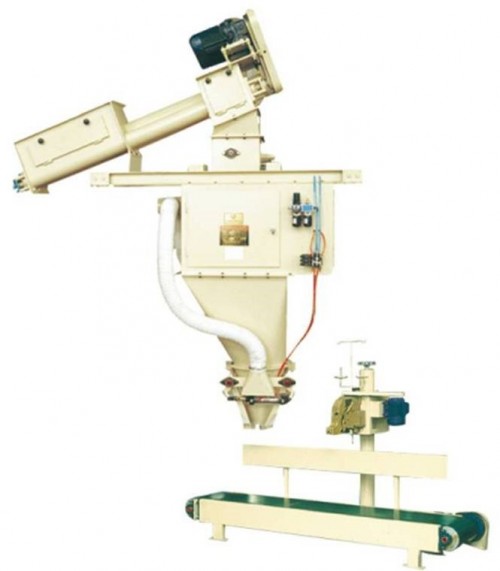 ---
BULK STORAGE AND OUT LOADING
To meet the requirements for bulk handling, Grain Tech provides both pre-formed steel panel and bolt together galvanized hopper bottom silos in a wide range of capacities. These storage silos may be arranged as intermediate storage silos or be elevated for bulk transport loading. Dust free discharge chutes may be fitted to bulk out loading silos to maintain clean transfer and out loading operations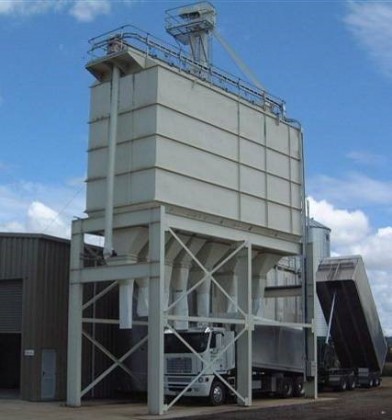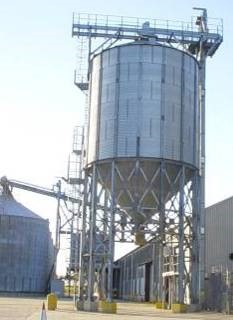 ---
INTEGRATED CONTROL SYSTEMS
For reliable and efficient plant operation, GT provide complete package Integrated Control Systems incorporating all necessary contactors, starters, over loads, mains switches, housed within easy accessed MCC units. PLC operational units complete with pc's and monitors together with custom software complete the pre-wired package ready for field wiring to the to the equipment items on site. This Integrated Control System arrangement enables greater installation economics and a significant saving in installation time requirements.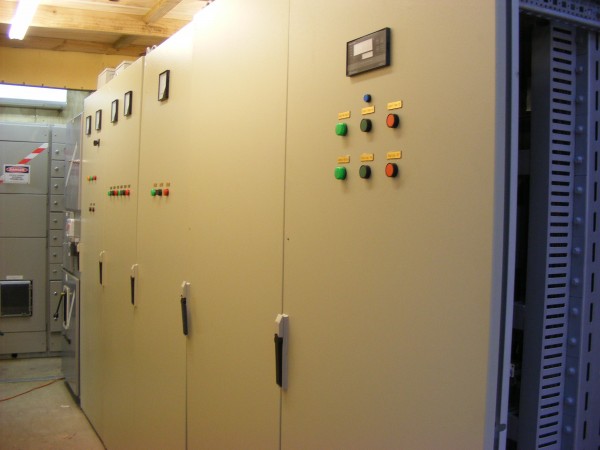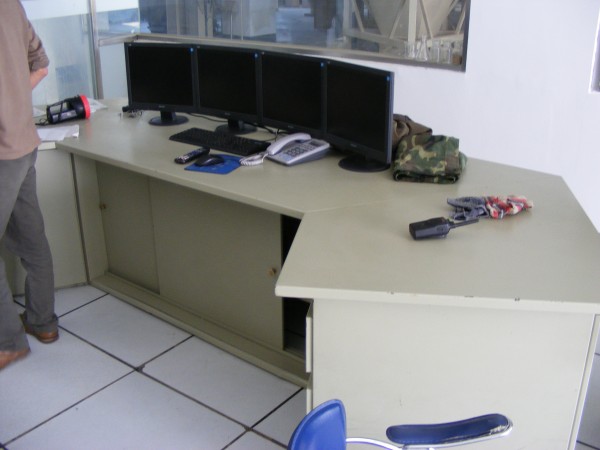 ---
OUR COST EFFECTIVE RANGE OF FILTER COLLECTORS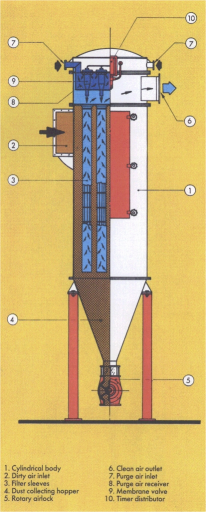 An often underestimated feature when evaluating the cost of a Dust Filter Collection installation is that of the ongoing operating costs of maintaining the compressed air requirements for the reverse air pulse to the filter socks. Within a high pressure reverse pulse filter collector, a standard unit requires approx. 0.5 cfm of air @ 80-125 psi per sleeve, i.e. For a filter collector having 60 filter sleeves the reverse pulse air requirement is 30 cfm @ 80-125. This air supply requirement is necessary and a continuous basis while the filter collector is operating and with increasing power costs soon mount up. Where the compressor is to operate under load for approx. 80% of the running time the power requirement for the air compressor will be at 80% of 7.5kW = 6 kW/h. Optionally, the Famsun-Grain Tech TBLMD Series Low Pressure Direct Filter Dust Collectors offer a significant operational cost saving for the reverse air pulse requirements whereby the power needed to run the low pressure compressor for a similar size filter collector will be approx. 2.0 kW/H. The TBLMD Series Low Pressure Direct Filter Dust Collectors are available in a capacity range to cater for 1750-35500m3 /Hr with each allowing a constant air flow at the optimum rate and at a consistent pressure drop. They operate continuously and automatically without using any moving parts and are suitable for controlling particulate emissions in a variety of industrial applications including foundry sand, grain processing dust, sander dust, rice, sugar, phosphorous, asbestos, barium, metalbisate, alumna, salt, gypsum, limestone, refuge derived fuels, soda ash, trisodium phosphate, coal and many other materials providing high efficiency under the most difficult conditions. The filter collector cylindrical shape and tangential air inlet ensures the heaviest dust particles are centrifugally separated before the remaining dust laden air contacts with the filter sleeves.
This series of filter dust collectors contain vertically suspended filter sleeves optionally 2000, 2400 or 3000mm long with plastic coated high tensile steel wire cages held in place with locking rings. The sleeve fabric is supplied for fine particle dust separation applications. The cleaning air receiver tank, clean air outlet and the filter sleeve cleaning jets are located within the upper section of the filter. The dust laden air tangentially enters the cylindrical body of the filter which houses the filter sleeves and access door. Filter sleeve cleaning is accomplished with low pressure air (0.5-0.7 bar) supplied from a low pressure vane type compressor supplying the communal header receiving vessel with the reverse air being released by individual membrane valves through nozzles into the filter sleeves. Each valve supplies two filter sleeves and the surface and impregnated dust is removed from the sleeves by the force of the reversed pulsed air blast. Each membrane valve which controls the reverse air blast into the filter sleeve is pneumatically controlled by its own membrane pilot valve. The correct operating sequence of the pilot valves is controlled by an electronic timer through a mechanical distributor while the duration of the reverse air blast can be regulated between 0.15-0.3 seconds while the frequency of the blasts can be regulated from 5-20 seconds.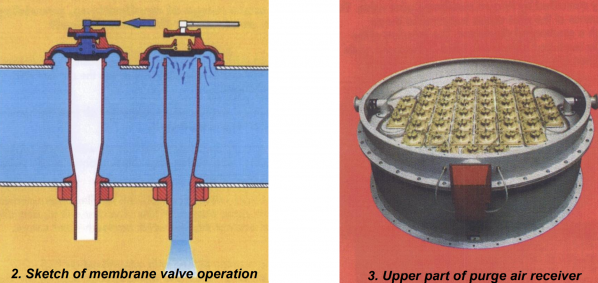 A large access door for ease of maintenance is provided in the side of the unit and the larger models have a grid fitted to the bottom of the body section for supporting personnel working internally. Mechanical maintenance is very slight as with the exception of the one solenoid operated pilot valve and one simple diaphragm valve per pair of sleeves, there are no moving parts. Optional standard 70° hopper cone discharge or flat bottom discharge fitted with a sweep arm unit may be provided where difficult to handle materials are being collected
---
BAG & BULK BAG PACKING EQUIPMENT TO SUIT A WIDE RANGE OF APPLICATIONS
THE FAMSUN SERIES OF PACKING AND WEIGHING MACHINES, MODELS L.C.S-50
The L.C.S.-50 Series Weighing & Packing Units are suited to handling a wide range of product types from granular materials through to low density powders. Optional feeding arrangements are available to suit the application and both net weighment and gross weighment scale units may be supplied. Heavy duty controls are incorporated to provide both high level of accuracy and long life.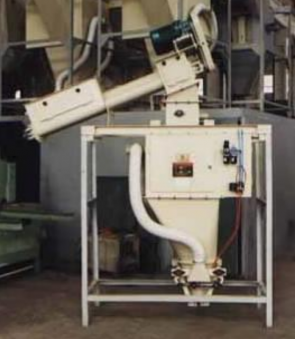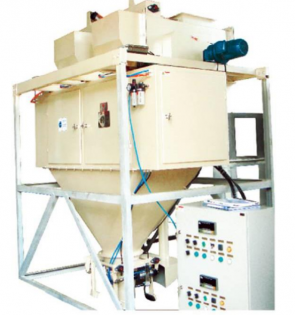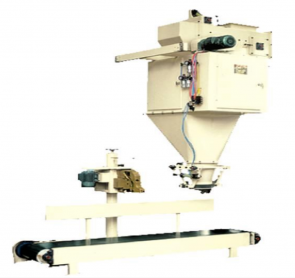 The net weigher universally incorporated is supplied from the product hopper or from the optional metering screw or belt feeder for automatic weighing according to the pre-determined weight called for with the weigh hopper automatically selftaring following each weighment. Delivery to the weigh pan is via a two stage bulk and dribble feed arrangement with the operation being either automatic or semiautomatic. A separate control panel houses the electrical and pneumatic operating equipment. Weighed product dumps rapidly from the weigh-hopper discharge gate into the receiving hopper supplying the bag which is clamped securely within the pneumatically operated bag clamping arrangement. Interlocking controls prevent the discharge of material from the weigh-hopper where an empty bag is not in position. The filled bag is released onto the transport conveyor for sewing and transfer to the end of the sewing line.
---
ECONOMICAL RANGE OF HIGH CAPACITY BAG CLOSING EQUIPMENT

Suited to upgrade and new installation applications where high capacity throughput and greater productivity is called for, the Bafang range of column mounted, heavy duty combination stitchers and bag in-feed units offer a sound economical solution. The range has been manufactured for more than 30 years and is well proven within many thousands of industrial installations guaranteeing consistent reliability with minimum maintenance. Arrangements may be supplied with or without the bag in-feed device and components have standard specifications as follows:
A) High Speed Sewing Machines
Combine automatic oil bath system with manual oiling
Automatic bag closing with single needle stitching
Automatic thread chain or crepe tape cutter cylinder driven
High quality sewing with reliable operation
Suitable for bags made of paper, plastic, fute, polypropylene, or kraft paper.
B) Bag In-feed Unit
Suitable for curling and closing bags made of plastic knits, plastic polypropylene or kraft paper
Designed for heavy duty applications and incorporate readily adjustable operating features
Suited for continuous high speed running with reliable performance
May be installed for automatic operation
C) Sewing Column Unit
Fully adjustable for sewing machine assembly height
Fitted with casters for simple transfer complete with screw type locking arrangement
Fitted with sewing machine mounting brackets and drive motor mounting fittings
Fitted with bag in-feed unit mounting brackets
Complete with full electrical control panel for integrating each operating unit function.
---
PROCESSING EQUIPMENT SPARE PARTS AND BACKUP SERVICE
With the aim of serving every customer efficiently and professionally, all Famsun processing equipment is provided with service and backup in the field, including:
Equipment maintenance and commissioning
Trouble shooting through customer visits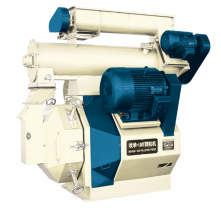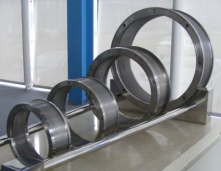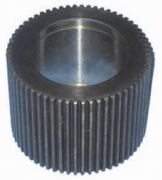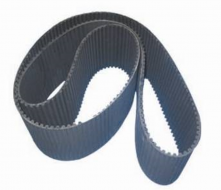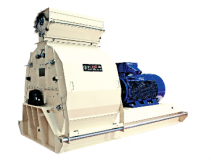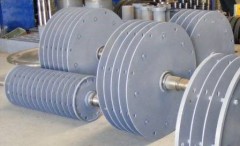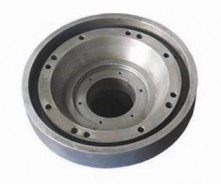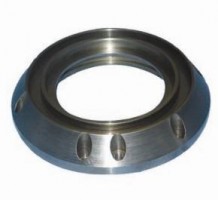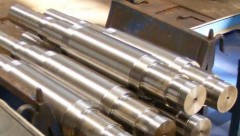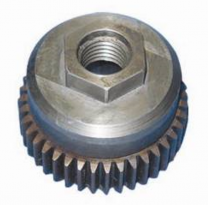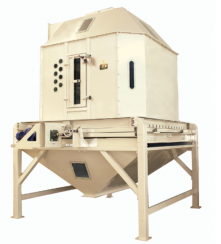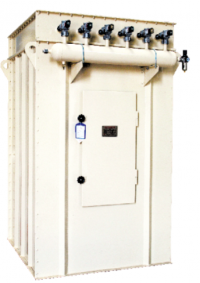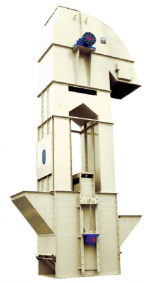 ---
INTEGRATED WOOD PELLETING LINES COMPLETED
Grain Tech has extensive experience in the manufacture of wood and fiber product pelleting processes with our first installation being completed in 1990. A complete range of processing and handling capacities are catered for to meet each application inclusive of the following operations: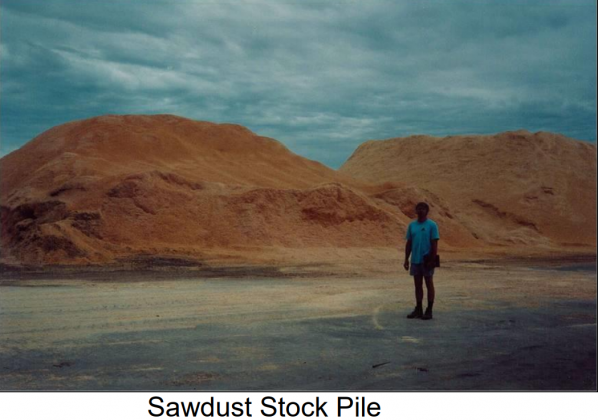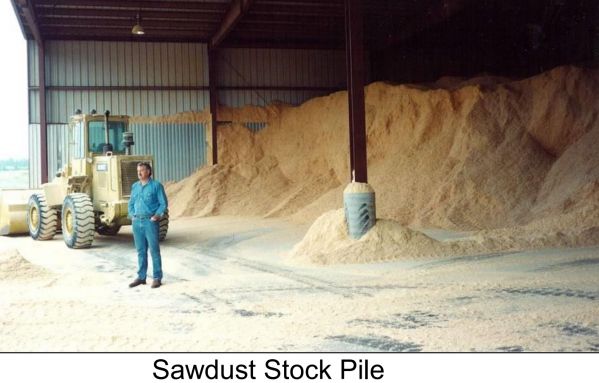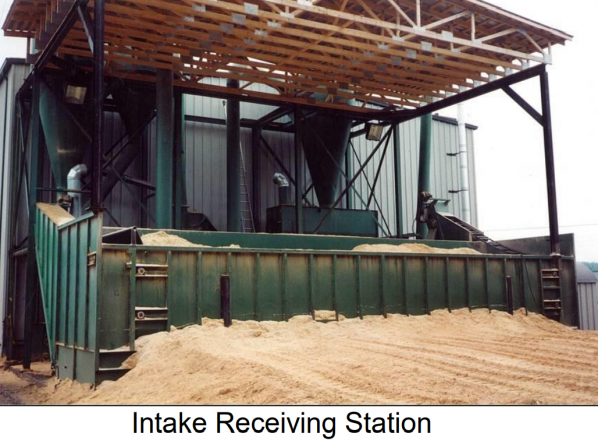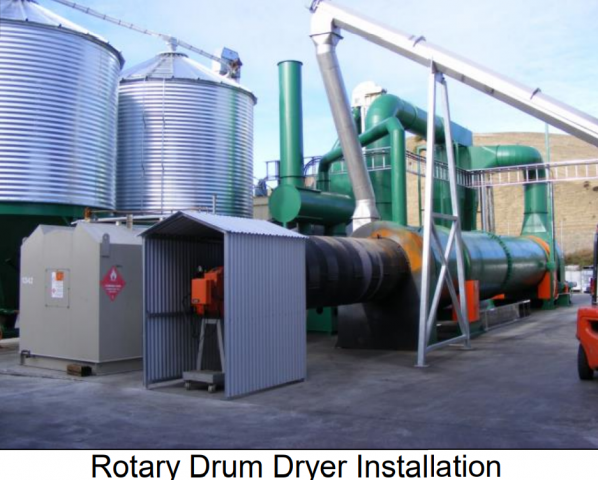 ---
INTEGRATED PELLETING LINES COMPLETED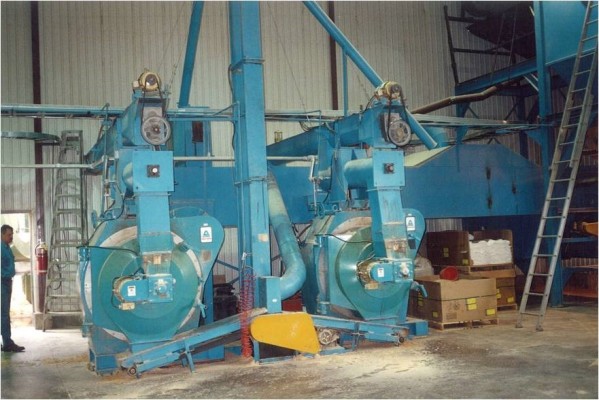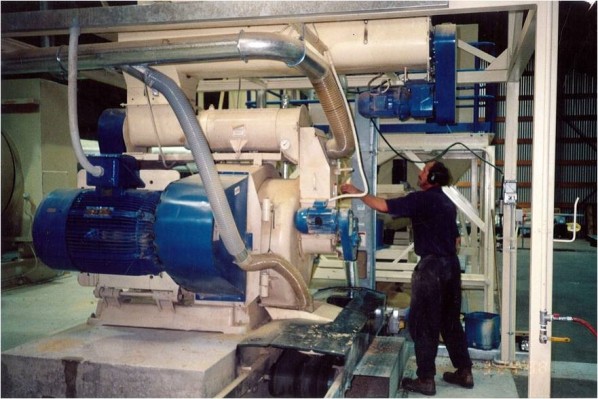 ---
INTEGRATED PELLETING LINES COMPLETED