SZG Series

Double Cone Rotary Vacuum Dryer
Application:
The rotary vacuum dryers are mainly used for drying and mixing of material in the pharmaceutical and food industries.
Operating Principle:
This machine has a very good drying and mixing effect for heat sensitive, easy oxidizing and non-crystalline materials as well as for solvent recovery in materials and drying strong irritating and toxic material. With a rapid drying speed and uniform product sample, there is no pollution within the material and the hygienic design ensures even blending and drying with the advantage of easy cleaning and simple maintenance.
Technical Parameters:

---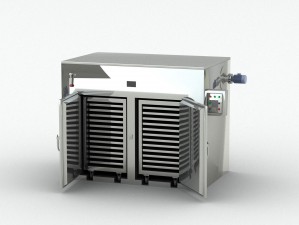 RXH Series Hot Air Circulating Dryer
Application:
The RXH series is applied for drying and dehumidification of material in such industries as pharmaceutical, chemical, foodstuff, light, heavy industries etc., as well as heating and dehumidification of products including raw medicines, original medicines, traditional Chinese medicine tablet, powder, granulate materials, pigments, dyestuffs, dried vegetable, food, plastic resin, electric element and baking finish applications.
Technical Parameters:

---
FZG, YZG Series Static Vacuum Dryer (Square & Round Types)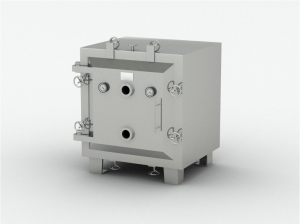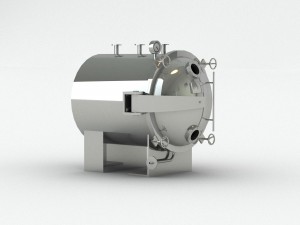 Application:
Incorporated for high efficiency tray drying, using the combination of heat and vacuum in order to optimize heat transfer from a wide range of reasonably free flowing materials. The feature of applying vacuum to the drying chamber ensures uniform and even drying throughout. Vacuum dry is divided into static and dynamic drier. The model YZG round vacuum drier of the model FZG square vacuum drier belong to the static drier type while the model SZG double cone rotating vacuum drier belongs to the dynamic drier type. When raw material is dried within the static type drier, the raw material is in static state and its shape remains stable. Where double drying is carried out within the rotary model SZG double cone unit, the drying time is lowered due to the continuous agitation of the material and the more even exposure to both heat and vacuum under the state of vacuum, the boiling point of the raw material will be lowered. Therefore these dryers are suitable for drying raw material that are unstable or thermally sensitive. The vacuum dryer also has good air retention and is suitable for drying raw materials that contain strong and toxic gases and where solvents need to be recovered. The vacuum dryer is widely used in the pharmaceutical, chemical, foodstuff and dyestuff industries and the design is in conformity with the requirements of GMP.
Note: SZ water ring vacuum pump can be used together with the mechanical pressure pump in order to increase the vacuum level.
When ordering please choose the type of vacuum dryer in accordance with the physical property, primary moisture and final moisture of raw material to be dried and factors such as temperature, vacuum, drying amount and time required etc. vacuum dryers with the same model type have four methods of heating i.e. steam, hot water, heat conduction, oil and electric. For example, in order to increase the output of product, the number of drying layers can be increased.

The auxiliary equipment to suit the vacvuum system is indicated in the user's manual and can be supplied and installed at the factory. Please indicate the requirements when ordering.

For any special requirements, the factory can also design, manufacture and install as requested.
Technical Parameters: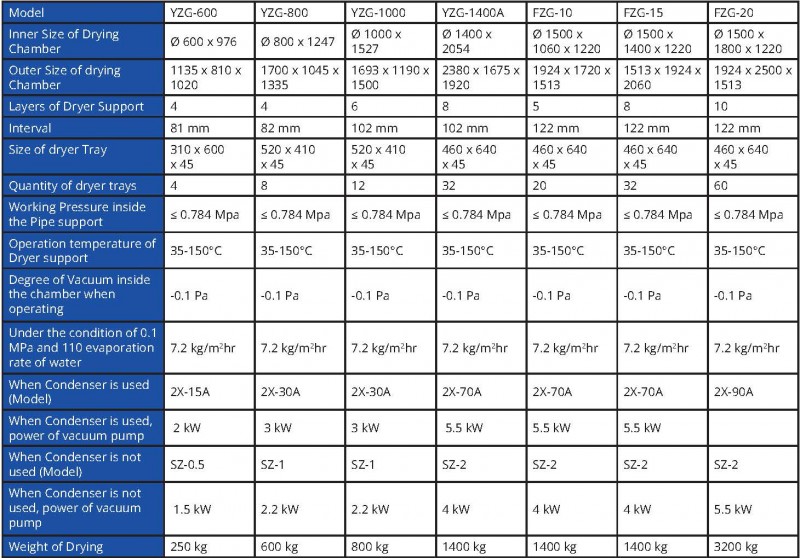 ---
GFG Series

High Efficiency Fluidised Bed Dryer
Application:
This machine is used for drying of granulate material having a particle size of up to 1.16mm and is applicable for quick drying of wet granulate and powdery materials as well as finished products and intermediate (semi-finished products) in such industries as pharmacy, foodstuff, light and chemical processing.
Operating Principle:
In operation air passes through a purification cabinet and heater, and from high speed airflow transfers up through the decks having perforated holes. The material reaches a fluidised state with the high velocity heated air carrying off the released product moisture. The evaporated air transfers via filters to atmosphere as the process is a batch operation. Full automation features are provided to enable consistent repeat performance.
Technical Parameters: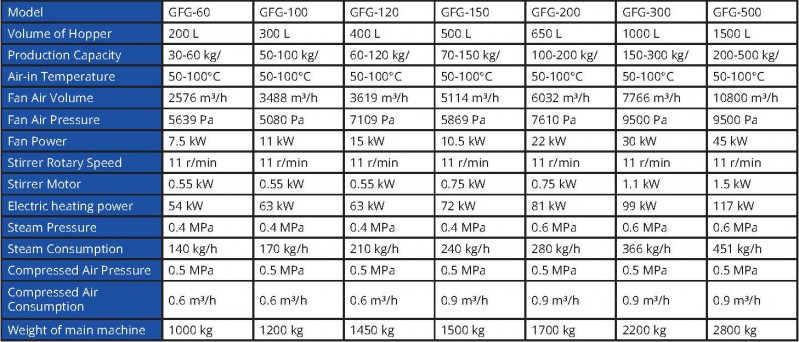 ---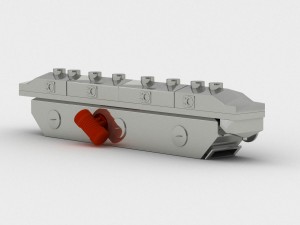 ZLG Series Vibratory Fluidised Bed Dryer
Specification:
Available in a wide range of sizes and capacities

Contact parts are to GMP standards and manufactured from food grade stainless steel

Fully ISO approved

Available as turnkey installed unit with all ancillary equipment items or as an individual processing unit for replacement / upgrade requirements
Application:
This machine is suited to handling a wide range of food, industrial, chemical, agricultural and related product types which have a free flowing characteristic and are able to be fluidised. The raw material is fed into the machine at the head end using various feeding devices according to the material flow ability characteristics and moves forward continuously along the horizontal fluidised bed under the combined action of vibration and air pressure. The hot air passes through the bed and evaporates the product moisture with this being carried off to the following filter collector / receiver or optional cyclone separators or the combination of both. The completed dried product discharges through the discharge outlet for further screening or cooling according to process application requirements.
Features:
The hot air may be supplied as either direct heat from a gas furnace or from an indirect heat exchanger, steam to air, hot water to air, furnace gas heating etc.
The initial material is heated evenly with complete contact across the full bed surface area and the drying capacity is high with typical energy savings of around 30% compared to alternative type dryers. In combination with the fluidise effect the vibratory motion of the deck is incorporated from two out of balance vibratory motors which enable variable adjustment and are stable in operation have lower maintenance and ensures quiet operation. The fluid state of the material on the feed bed remains stable with no dead spots or blind areas and may be altered by adjustments to air flow, vibratory amplitude and bed tilt angle. Further regulation to the material flow rate and product dwell time may be made by incorporation of a V/S controller to the two vibratory motor drives. Product ingredient degradation is minimal and this type of dryer is well suited for handling friable materials as well as products which have a wide range of particle size features or differing density product types. The fluidised bed processor is a completely enclosed operation and does not exit dust or process air to the atmosphere.
Operating Principle:
The fluidised bed processor is suitable for drying, drying and cooling or simply cooling applications and may be supplied with a range of support processing equipment to meet a wide range of applications such as:
Pharmaceutical and chemical industries: Press tablets and granules, boric acid, borax, dihydroxybenzene, malic acid, and urea etc.

Foodstuff Industries: Breakfast cereals, monosodium glutamate, sugar, salt, grains, pulses, processing residue products etc.

Agro Chemical Applications: Drilled seed drying, fertiliser granulation drying / cooling residue etc.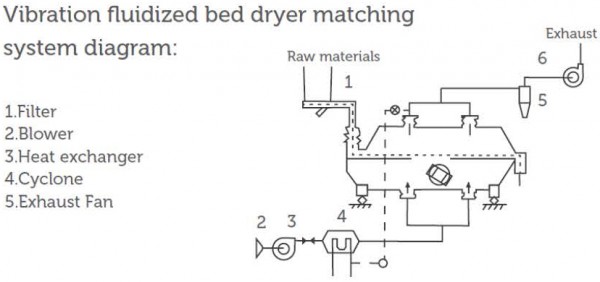 Technical Parameters: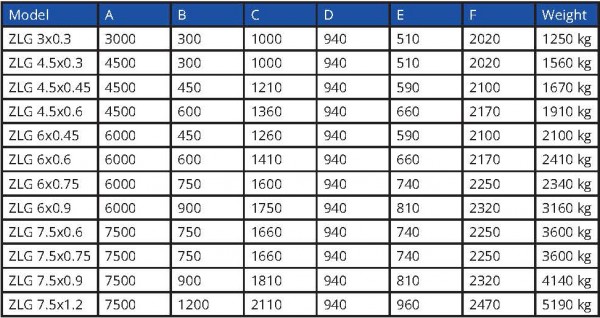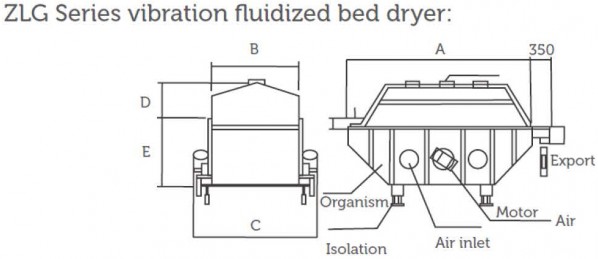 ---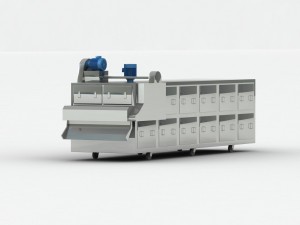 DW Series Belt Dryer
Application:
This type of dryer is suitable for drying materials with in a wide range of applications including pharmaceutical, chemical, foodstuff, gum, electronic, de-watering vegetables, particle feed, gourmet powders, shredded coconut, stuffing, organic color compound, rubber, acryl fiber, medicinal products, medicine material, small wood product, plastic products, aging and solidification of electronic components etc.
Features:
The materials are uniformly spread onto the mesh belt by the material spreader. The mesh belt generally has 12 – 60 mesh stainless steel wire and it is drawn and moved inside the dryer by a transmission unit. The dryer is composed of several units, the hot air is circulated separately some exhaust gas is discharged with a special moisture elimination blower. The waste gas is controlled through an adjustment valve. The hot air passes through the mesh belt covered with the material from the top to the bottom or from the bottom to the top and this will complete the heat and mass transfer process. The finished dried product drops into the material collector continuously. The top and lower circulation units can be equipped according to the users demand and the unit can be selected according to the particular drying requirements.
Operating Principle:
Widely used for drying agglomerated, strip, pelleted, flaked, extruded and similar type materials, and is used for drying high moisture content and lose state materials having good ventilation. The machine is suitable for the materials such as de-watering vegetable, herbal leaf materials and others for which the water content rate is high, and high temperature is not recommended. The machine has the advantages that its drying speed is fast and the evaporation strength is high with the product quality being good. The de-watered filter cake and similar paste type materials as well as high fibre products may be readily dried. The machine design meets GMP standards and operation is via an automated control system.

Technical Parameters:

---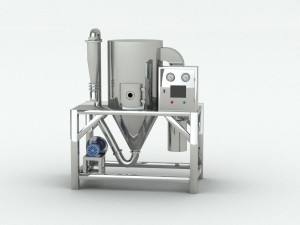 LPG Series High-Speed Centrifuge Atomising Dryer
Specification:
Available in five sizes/capacities

Contact parts to GMP standards and manufactured from high grade stainless steel.

Fully ISO approved.

Suitable for drying emulsions, suspended liquids and liquid materials
Application:
The LPG series high speed centrifuge atomizing dryer is a specialized type of dryer suitable for drying emulsions, suspended liquids, emulsified liquids etc. The principle has a unique advantage in drying polymers and resins, dyestuffs and pigments, ceramics, gloss, de-rusting agents, pesticides, carbon hydrates, dairy products, detergents and surfactants, fertilizers, organic compounds, inorganic compounds etc.
Features:
A rapid drying efficiency of 5 – 15 seconds and is normally suitable for drying thermal sensitive raw material. It is ideal for drying colored, small and physical appearance materials. This machine has a stable operation with convenient regulations and controls and is suitable for continuous processing operations. The distribution, fluidity and solubility of finish product meet the international standards.
Operating Principle:
Hot air is supplied to the top of the drying chamber via either a direct heat or indirect heat air filter and enters the chamber tangentially. In concert the liquid material to be dried is atomized via a centrifugal atomizer at the top of the dryer chamber via a pump and filter arrangement where the liquid forms atomized droplets. The liquid droplets and hot air converge and evaporation of the droplet surface liquid occurs rapidly. The dried material is drawn down into the receiving hopper section for discharge to the cyclone separator. Hot moisture laden air transfers to the atmosphere via the exhaust system.
Technical Parameters: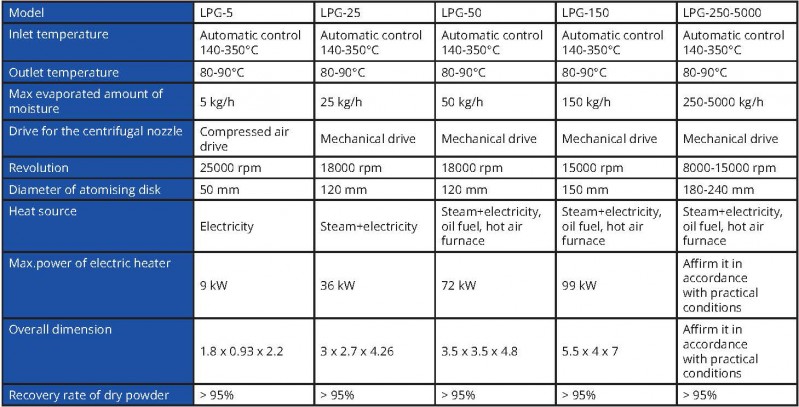 ---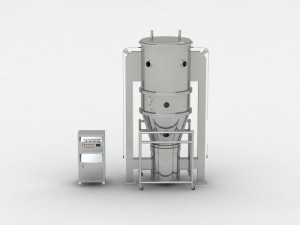 FL Series Fluidised Granulating Dryer
Features:
Mixing, granulating and drying are completed within a single process and the process is completely sealed with no dust emissions to atmosphere. The filter media has anti-static properties for added safety and explosion relief features are installed. All contact surfaces areas are rounded and designed for easy cleaning with sight glass inspection ports being fitted. The loading and unloading is easily carried out.
Operating Principle:
Granulation of the solution occurs through droplets fluidising when coming into contact with the hot air within the spray chamber. Clean heated air is introduced into the lower spraying area where it rises to contact the sprayed liquid. The rapid evaporation of moisture within the droplets produces granules which remain in suspension in a fluidised state. The evaporated high moisture air discharges via a filter assembly to atmosphere while the formed granules accumulate in the removable sealed hopper assembly. In operation the fluidised granulator produces an even particle size finished granule as a continuous operation. All contact parts are manufactured to the GMP standards in stainless steel and complete operation is controlled from an automated process control panel where parameters may be set according to process requirements.
Technical Parameters: