ZKS Series

Vacuum Conveyor
Features:
The vacuum conveyor is designed for industrial applications incorporating heavy duty components and is the ideal transfer equipment, used for transporting powder materials, granular materials and powder and granular materials for feeding the materials directly into mixers and processing applications. It reduces the likely dust emissions and is GMP certified. It is widely used in the pharmaceutical, foodstuff, feedstuff, chemical and plastics industries and for general processing material handling applications.
Operating Principle:
The vacuum conveyor consists of a vacuum unit (no oil, no water), feeding tube, PE filter, vacuum hopper, automatic control device, pneumatic discharging device and a compressed air pulsing unit.
The models ZKS-5 and ZKS-6 are newly developed products having the characteristics of low power consumption high capacity, low noise and reliable operation. It is the ideal type of equipment for transferring powder and granular materials to mixers and processing equipment including packers, reactors etc.
Technical Specifications: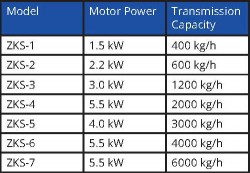 ---
Screw

Conveyors
Operating Principle:
Widely incorporated to feed processing equipment, i.e. impact mills, screeners, packers etc. Also incorporated as a metering feeder for process applications.
Features:
Supplied as solid shaft stainless steel fabricated units, complete with tipping station incorporating vibratory unit in sizes 75, 100, and 125 mm ø and lengths to suit application or optional flexible screw conveyor series in 75, 100 and 125 mm ø sizes capable of handling virtually any bulk solid materials. The flexible type conveyor has the added advantage of being able to accommodate varying installations location requirements such as bending around, over or beneath existing facilities. Suited to handling materials that can bridge, pack, fluidise and be otherwise hard to handle.
---
Belt

Conveyors
Operating Principle:
Incorporated within the process applications for transfer from one process to another, particularly for finished products and larger particle size materials. Is widely used for handling friable products likely to be damaged by screw conveyors or pneumatic conveying.
Features:
Suited to high capacity transfer of granular and processed finished products where minimum degradation is called for. The range of belt conveyors may be supplied to convey at lengths of up to 10 meters. The advantages include all food grade construction, easy clean down, high capacity, hygienic compliance, and sturdy design and available to suit specific applications. All fabricated components are of 304 stainless steel with a PVC cleated belt.