SLHJS Twin-shaft Paddle Mixer
The special mixer recommended by The Additive Committee of China National Feed Industrial Association for mixing feed additives and premix;

Low-speed running, highly efficient mixing, soft operation movement and addition of manifold liquids e.g. water, molasses and oil etc.;

Short mixing period (40-60s/batch) and high mixing homogeneity (CV ≤5%, may be up to 3%);

Patented double-leaf discharging control mechanism features fast material discharging without an leakage and residue;

(ZL 94 2 42382.8)

Suitable for mixing premix, poultry and livestock feeds, aquafeeds, feed additives and the powdery materials in food, chemical and pharmaceutical industries.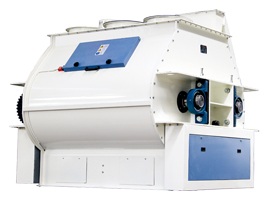 | | | |
| --- | --- | --- |
| Model | Capacity (kg/bat) | Power (kW) |
| SLHSJ0.06A | 25 | 1.1 |
| SLHSJ0.1A | 50 | 2.2 |
| SLHSJ0.2A | 100 | 2.2 |
| SHSJ0.35A | 175 | 4 |
| SLHSJ0.5A | 250 | 5.5/7.5 |
| SLHSJ1A | 500 | 11/15 |
| SLHSJ2A | 1000 | 18.5/22 |
| SLHSJ3A | 1500 | 22 |
| SLHSJ4W | 2000 | 30/37 |
| SLHSJ7A | 3500 | 45 |
| SLHSJ8A | 4000 | 45 |
| SLHSJ10A | 5000 | 55 |