SJHS Double-Circle Paddle Mixer

The SJHS mixing rotor design, mixing period 45-60s; at a mixing ratio of 1:100000, CV value can reach 2-3% (in case of standard formula);

Adjustable gap between the paddles and the casing of mixing chamber ensures a material residue ≤0.05-0.15% and effectively prevent the product from cross contamination;

The full bottom double-leaf discharge gate coinciding with the length of the mixing chamber ensures the complete discharging of mixed materials, and the minimizing of residue. The unique air-sac sealing device for the discharging gate ensures reliable air-tightness without air leakage;

The large access door facilitates the cleaning of mixing chamber and the replacement of paddles;

Lift type liquid adding system features ease of cleaning and replacement, and the atomizing liquid addition ensures homogenous mixing without any agglomeration;

Suitable for mixing premix, complete compound feed and additives as well as the powdery materials in food, chemical and pharmaceutical industries etc.
The test results China State Bureau of Product Quality Supervision:
The mixing homogeneity of Famsung SJHS Series double-circle paddle mixer is 97.7% (i.e. CV value = 2.3%), natural residue percentage ≤0.1%, and unit power consumption 0.30kW.h/t.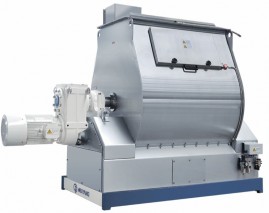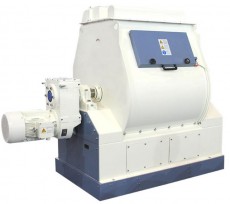 | | | | |
| --- | --- | --- | --- |
| Model | Volume (m3) | Capacity (kg/bat) | Power (kW) |
| SJHS0.2 | 0.2 | 100 | 2.2/3 |
| SJHS0.5 | 0.5 | 250 | 5.5/7.5 |
| SJHS1 | 1 | 500 | 11/15 |
| SJHS2 | 2 | 1000 | 18.5/22 |
| SJHS4 | 4 | 2000 | 37/45 |
| SJHS6 | 6 | 3000 | 55 |