SKGD Multi Pass Convection Dryer
Low energy consumption - Due to the recycled utilization of 50-95% hot air and the thermally insulated body, energy consumption and production costs are greatly reduced.
Low Breakage - The twin-deck crawler belts adopted, eliminate damage to material surfaces.
Uniformity - The features included such as the two-way cross flow drying, the adjustable material spreader and the material distributor ensure uniform moisture within the finished product.
Intelligence -The drying temperature, material retention time and bed depth can be intelligently controlled by a computer.
Self-Cleaning - The auto sweeper fitted to the bottom section implements self-cleaning.
Excellent quality - The SKGD Dryer is manufactured according to international standards, and all the plate materials are cut by a laser cutter, thus eliminating deformation. The key parts are imported.
Multi-purpose - Suitable not only for the drying treatment of high-grade extruded pelleted feeds and pet feed but also for the drying of granular and flaky materials in grain milling, food and chemical industries.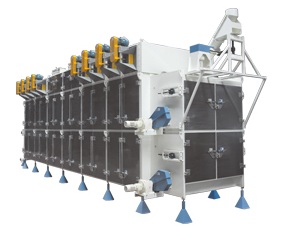 | | | |
| --- | --- | --- |
| Model | Capacity (t/h) | Power (kW) |
| SKGD3000A | 3.0-6.0 | 64.5 |
| SKGD2000-4 | 3.0-4.0 | 30, 65 |
| SKGD2000-5 | 5.0-6.5 | 38, 25 |
| SKGD2000-6 | 6.0-8.0 | 44, 25 |
| SKGD2000-8 | 8.0-10 | 56, 25 |