MHTY Oilseed (Rapeseed & Soybean) Dryer
Patented styling, simple and novel design, modular steel structure, ease of transportation and installation;

Material flowing from the dryer's top to bottom by gravity exchanges heat with the drying medium, attaining the aim of dehydration. Either continuous or circulated operation is available, depending on the technological requirement;

Unique oilseed intake mechanism, with which material can slide down the column so as to reduce breakage;

All the working parts used for the material heating and cooling process are housed within an adjustable enclosure, of which the cross-section is variable, efficiently enhancing the utilization ratio of heat and reducing the moisture unevenness in dried product;

Patented oilseed discharging device is provided with a large open area for contacting the material layer, this is helpful in controlling the descent of the material at equal speeds. The operation features accurate weighing of discharged material, no material residue and less labour for cleaning. A frequency conversion motor is used to adjust the speed of discharging roller, effectively controlling the drying period and hence the final moisture of the dried product;

Advanced touch screen and PLC control system with user-friendly interface fulfil the automatic monitoring of the complete drying process and the on-line moisture testing.

Adopting an axial fan in lieu of the conventional centrifugal fan results in reduction of power consumption and noise;

Patented technology of combining dust collection with air exhaustion meets the requirements of environment protection;

Suitable for drying oil seeds such as rapeseed, soybean and peanut, etc.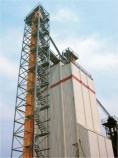 | | | | | |
| --- | --- | --- | --- | --- |
| Model | Capacity (t/d) | Range of moisture removal (1 pass) | Unit heat consumption (kJ/kg.H2O) | Power (kW) |
| MHTY6 | 200 | ≥4% | <5500 | <60 |
| MHTY8 | 300 | ≥4% | <5500 | <80 |
| MHTY12.5 | 500 | ≥4% | <6000 | <100 |
| MHTY18 | 1000 | ≥4% | <7000 | <100 |
| MHTY18/100 | 2000 | ≥4% | <7000 | <150 |