FSFJ1 & FSFJ2 Plansifters
Available in single section and double section arrangements with up to 10 trays for four separations.

Heavy-duty construction for stable operation.

Widely used within the flour milling, cereals and starch processing industries as well as within bakeries and food and chemical industries for efficient classification of powder and granular products.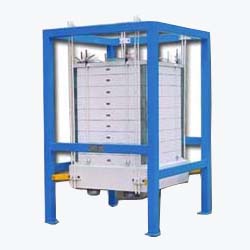 No. of sections

1

2

No. of sieves per section

6 - 10

6 - 10

Total sieve actual area (m2)

2.7 - 4.5

5.4 - 9

Capacity throughput (based on




processing wheat flour t/h)

2 - 3

4 - 7

Rotational speed (r/min)

290

245 - 255

Gyration area (mm)

43 - 47

50 - 60

Total power (kW)

1.1

1.5

Sifter weight (kg)

470

760

Sifter total weight (kg)

630

980

No. of inlets (per section)

1 - 2

2 - 4

No. of outlets (separations per section)

4

4

Dimensions - Max. size (mm)

1390x1280x2053

2120x1440x2120