Twin-screw Extruder
Multiple Functions
With the unique twin-screw structure adopted, diverse feed products can be manufactured by changing simple configurations and parameters, including floating and sinking aquafeeds, pet foods, extruded foods and textured protein etc.
Effective energy utilization
Cooking within the extrusion process is effectively managed by the utilisation of steam, reducing power consumption, resulting in lower processing costs.
Convenient and precise control system
Automatic control can precisely control the flow rate of various materials and their flow proportions, and record processing parameters to provide references for setting and regulating processing parameters in the future.
Minimized industrial waste water
The minimization of industrial waste water from this operation provides huge advantages for those feed manufacturers who are facing the increasing pressure in tackling the impact of production activities on the environment.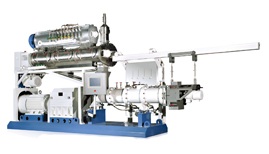 | | | |
| --- | --- | --- |
| Model | MY150x2 | MY120x2 |
| Screw diameter (mm) | 150 | 120 |
| Capacity (t/h) | 3-10 | 4-6 |
| Main motor power (kW) | 315 | 200 |
| Conditioner power (kW) | 22 | 18.5 |
| Feeder power (kW) | 3 | 1.5 |