Single Screw Extruder

Automatically controlled pneumatic byparts prevents material from entering the barrel until it has been adequately conditioned.

The speed of the cutter and the clearance distance between the cutter and the surface of the die plate can be adjusted. The cutter blade may also be replaced without stopping the extruder.

The jacketed barrel design allows the working temperature within each barrel to be controlled via water or steam

Supplied complete with feeding screw and feed bin, ensures the in-feed material can be carefully and continuously controlled. The feed bin is also fitted with a bridge breaker as its base.

A twin-shaft differential speed conditioner is employed to ensure uniform conditioning and stable extrusion

The in-feed amount of material is precisely controlled through the differential weight principle. The optimum control parameters are preset in accordance with specific formulas.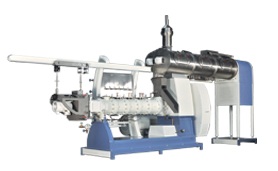 Model
MY135
MY165
MY215
MY265
Screw diameter
Capacity (t/h)
Power of main motor (kW)
Power of conditioner motor (kW)