MUZL 600/1200 Pellet Mills
Twin Motors
The stepped drive line provides efficient gearing, stable running conditions, high output torques, low noise as well as easy maintenance procedures.
Three Roll Shells
The classic and well proven three roller configuration provides uniform materla distribution around the die and the ability to withstand higher working pressures.
Ease of Operations
These machines are equiped with hydraulically driven over-load protection defices and hydraulic belt tensioning to ensure reliable operation and increased production efficiency. Automatic lubrication ensures ease of operation and maintenance and minimal time input.
Applications
Die hole diameters: 1.2mm - 12mm. This series of pellet mills are best suited to producing high quality poultry and aqua feeds.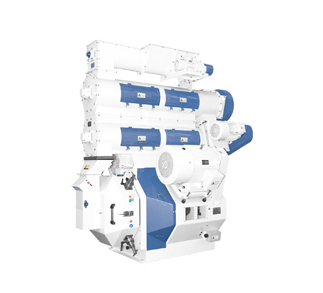 | | | | | | | |
| --- | --- | --- | --- | --- | --- | --- |
| Model | Main motor power (kw) | Capacity (t/h) | Internal diameter of die (mm) | Number of rolls | Power of feed motor (kw) | Pellet size (mm) |
| MUZL600-I | 55x2 | 3-13 | Φ550 | 3 | 1.5 | Φ2-12 |
| MUZL600-II | 75x2 | 4-18 | Φ550 | 3 | 1.5 | Φ2-12 |
| MUZL600X | 55x2 | 1.5-3.5 | Φ550 | 3 | 2.2 | Φ1.5-2.5 |
| MUZL1200-I | 90x2 | 4-22 | Φ650 | 3 | 2.2 | Φ2-12 |
| MUZL1200-II | 110x2 | 4-27 | Φ650 | 3 | 2.2 | Φ2-12 |
| MUZL1200X | 110x2 | 2-5 | Φ650 | 3 | 2.2 | Φ1.5-Φ2.5 |

Note: X represents the special pellet mill for shrimp feed